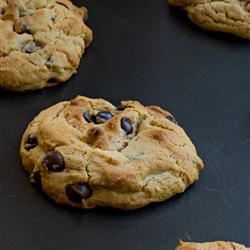 If you know me, you know I'm not a baker.  I'm not an "exact" type person and would rather estimate than have exactly a tsp. of this or that, that's why I love cooking.  But, I do make cookies every now and then.  My favorite food site is
allrecipes.com
.  It has anything and everything you would ever want to make and you can add your own recipes to the site.
One time, Steven made these
baked nachos
 I added the recipe and it got accepted, so the recipe is on there!
Anyways, back to the cookies.  I like chewy cookies and these are the most addicting ones I've ever eaten.  I'm not a big sweets fan, hence the lack of baking that goes on in my house, but these you have to try!  If you like peanut butter, chocolate and walnuts with a soft, chewy texture, this is the cookie for you!  
Let me know how they turn out!
-----
COMPLIMENTS OF ALLRECIPES.com
INGREDIENTS (Nutrition)
1/2 cup butter, softened
1/2 cup peanut butter
1 cup packed brown sugar
1/2 cup white sugar
2 eggs
2 tablespoons light corn syrup
2 tablespoons water
2 teaspoons vanilla extract
2 1/2 cups all-purpose flour
1 teaspoon baking soda
1/2 teaspoon salt
2 cups chopped semisweet chocolate
1 cup chopped walnuts (

my addition

)
DIRECTIONS
Preheat oven to 375 degrees F (190 degrees C).
In a large bowl, cream together the butter, peanut butter, brown sugar, and white sugar until smooth. Beat in the eggs one at a time, then stir in the corn syrup, water, and vanilla. Combine the flour, baking soda, and salt; stir into the peanut butter mixture. Fold in chocolate chunks.
Drop by 1/4 cupfuls 3 inches apart onto ungreased baking sheets. (
I used an ice cream scoop half filled)
Bake for 12 to 14 minutes in the preheated oven, or until edges are golden. Allow cookies to cool for 1 minute on the cookie sheet before removing to wire racks to cool completely.