ORGANIC TURKEY CHILI - CROCK POT STYLE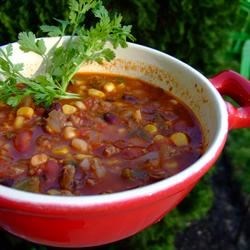 For those of you who don't have a lot of extra time and want to still cook a decent meal, the crock pot is your best friend.  I have learned that this little machine can make just about anything taste good.

I've been trying to cook more organic and natural foods and notice an amazing difference in texture, freshness and taste.  This little meal took no time at all to prep.  Other than browning the meat, you throw everything into the crock pot and let it simmer.  It's tasty and has a spicy kick at the end.  If you're not into a spicy chili, use less chili powder and more cumin!

Enjoy!
What is your favorite recipe? I'd love to hear!
-------------------------------------------------------------------------
INGREDIENTS
1 pound
organic
ground turkey
2 cans
natural
diced tomatos
1 (15 ounce) cans
organic
kidney beans, drained
1/2 medium
organic
onion, chopped
2 tablespoons chili powder
1 teaspoon red pepper flakes
1/2 tablespoon garlic powder
1/2 tablespoon ground cumin
1 pinch ground black pepper
1 pinch ground allspice
salt to taste
DIRECTIONS
Heat the oil in a skillet over medium heat. Place turkey in the skillet, and cook until evenly brown; drain.

Coat the inside of a slow cooker with cooking spray, and mix in turkey, tomato soup, kidney beans, black beans and onion. Season with chili powder, red pepper flakes, garlic powder, cumin, black pepper, allspice and salt.

Cover, and cook 8 hours on Low or 4 hours on High.