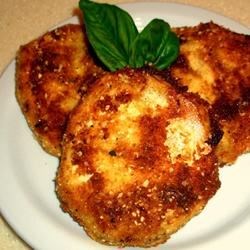 This is a yummy addition to a staple italian meal. I like to use this instead of garlic bread because you get your veggies and it still has a good flavor with a crunch like you get with bread. These will supper flexible one they are cooked so the outside will be crispy but inside like a cooked zucchini.
INGREDIENTS (Nutrition)
2 tablespoons canola oil
1 large eggplant, peeled and sliced
3 eggs, beaten
2 cups dry bread crumbs
Garlic Salt
Pepper
Parmesan Cheese (powdered kind)

DIRECTIONS
Heat oil in a large skillet over medium-high heat.
Add salt pepper and cheese to bread crumbs and mix together. Dip eggplant slices in egg, then in crumbs, and place in hot oil. Fry 2 to 3 minutes on each side, or until golden brown. Drain on paper towels.
Serve with tomato sauce if desired.