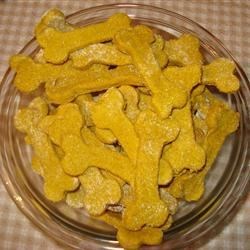 These are great little cookies. Having two dogs, we go through a lot of treats while training them. Plus sometimes their just so cute, that I can't resist a little treat. Anyways, the cost adds up and I always wonder what is in a dog biscuit. So I made my own with things we all have in our kitchens. Try em' out and let me know what your furry friends say!
*Yes, these are human edible, but I wouldn't recommend them.
Preheat oven to 350 degrees F (175 degrees C).

Whisk together the flour, eggs, pumpkin, peanut butter, salt, and cinnamon in a bowl. Add water as needed to help make the dough workable, but the dough should be dry and stiff. Roll the dough into a 1/2-inch-thick roll. Cut into 1/2-inch pieces.

Bake in preheated oven until hard, about 40 minutes.